The Ice Cream Man (Matt Allen)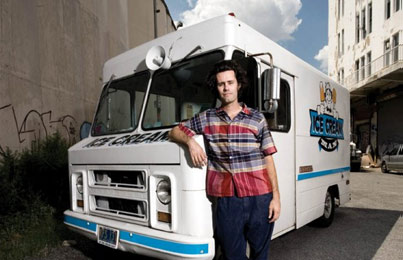 About Us
Ice Cream Man's mission is to travel the country, eventually the world, giving away FREE ice cream.

In the summer of 2004, Matt Allen was behind the wheel of a 1969 Chevrolet Step Van, roaming the streets of Ashland, Oregon in search of adventure. Armed with a video camera and an endless supply of frozen treats, he was determined to become not only the most famous ice cream man in Ashland, but the most famous ice cream man in the world. As that summer came to a close, Allen's mission of entertainment evolved into a greater calling. He began giving away his ice cream for free, starting with an ice cream social for the residents of Ashland and quickly moving to his hometown of Long Beach, California to expand the simple idea of free ice cream into the phenomenon it is today.

Seven years, six national tours, and over 400,000 free ice creams later, Ice Cream Man has come to represent the power of a dream. "This is about getting people to think about things a bit differently, proving that you can do anything with your life," says Allen, a veteran adventurer whose feats have included hiking from Mexico to Canada and biking across the country to raise money for breast cancer groups. "I want to give away ice cream. It's that simple. I can't be the only one who thinks this is a good idea. Why not bring all of these like-minded people together to do great things?"

Bringing people together has indeed been at the core of Ice Cream Man's organization. In the course of five years, what was once a one-man job has become an international operation, dependent upon the determination and coordination of over 100 volunteers and a constantly growing roster of sponsors, business partners and crew members committed to the idea of free ice cream for all. With each year come new ideas and new opportunities for growth, but the inspiration for Ice Cream Man remains the same: "Why wait to fulfill your dreams?"

If you would like to become a part of this movement, we sure could use your help. Everyone has something to offer, be it a kind word, a review of a band, a few dollars, or a new engine for a '69 Chevy step van. You can start by simply helping us spread the word. To join the crew, check out some ways to get involved.

If you're interested in sponsoring or partnering with Ice Cream Man, check out our online business portal.

For information on renting a truck for a film or television production, check out our film page.

Keep up to date with our adventures by following Ice Cream Man on Twitter and Facebook.

We Like You!