Get Involved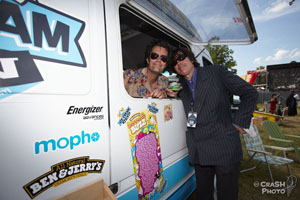 Become A Sponsor
If your company or organization believes in positive action and wants to build a partnership with Ice Cream Man, we'd like to work with you. The more we grow, the more opportunities we create for our crew, our supporters and our business partners.

Check out our business portal for more information. Also, check out our official press kit for details on the benefits of working with Ice Cream Man, and contact Operations Director Dave Gooch to get the ball rolling.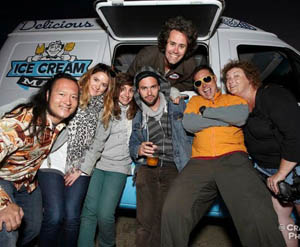 Join the Crew
Ice Cream Man is always looking for help. To receive updates on our mission and our whereabouts, join our Mailing List.

If you are an experienced photographer or review writer and would like to cover music and entertainment for Ice Cream Man, please send a cover letter, resume and writing/portfolio sample to Craig, our Director of Concert Staff.

If you live in Los Angeles, Long Beach, or Orange County and would like to become an intern for Ice Cream Man, please send a cover letter and resume to James, our Director of Outreach. Our needs are constantly evolving, but there's always plenty to do at our home base in Long Beach. Right now, we especially need assistance with web site administration.

If you're interested in sponsoring Ice Cream Man or other business propositions, please check out our business portal.

If you feel inspired and know there's something special you can contribute to the dream, let us know! We love to hear from ice cream lovers everywhere.