Fleet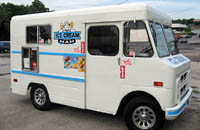 Bessie,
Ice Cream Man's Original Ice Cream Truck
Formerly a 1969 Chevrolet P10 Stepvan
I bought Bessie in May of 2004 in Grants Pass, Oregon. She wasn't in the best of shape, but she ran, and the body wasn't too beat up. She cost $1200, but required a lot of love and work to get to the state she's in now. For the specs people out there: She has a 1972 Chevy 250 Straight Six motor which was rebuilt in 2005.... and there's nowhere to go but up.

She drove around Ashland, Oregon in 2004 then made her way down to Long Beach, California, her current home, at the end of the year for All Tomorrow's Parties. That was our first music festival together. Since then she's accomplished a west coast tour in 2005 and two national tours in 2006 and 2007.

It's still unclear how Bessie makes it all around the country, and even across Canada. We do regular check ups and I also carry a lot of tools and... honestly... I think we have a special bond. She tells me when she's sick and needs to go visit her doctor (IE - Nate Jones Tires in Long Beach or any friendly mechanic on the road).

Long Live BESSIE!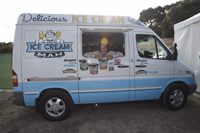 Beau,
Ice Cream Man's Main Touring Van
Converted Dodge Sprinter 1500
Beau joined the Ice Cream Man family in May 2010. At the end of 2009 Beau was hit by a truck and declared a total loss. Thankfully, the truck that hit it was insured and we were able to use the cash to pick up a new Sprinter van that we converted into the sleek new ice cream van.

A bit smaller than Newt, but still equipped with two freezers to maximize the slinging potential. Hopefully he sticks around longer than his big brother Newt did. He's a lot of fun.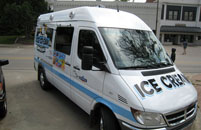 Newt,
Rest In Peace
Formerly a 2004 Dodge Sprinter
Unfortunately, at the end of 2009 tragedy struck and our beloved Newt was wrecked in a car accident. It had a good run.

Newt officially joined the fleet in May 2008, four years after Bessie. We're still trying to figure out if we should call it "he" or "she."

Newt's first Ice Cream Man experiences were the Joshua Tree Music Festival as a practice run and Sasquatch as the beginning of the first summer tour.

(S)he's equipped with two freezers that together can hold over 2500 ice creams. Also, a full sound system including outside speakers to really bump that ice cream music.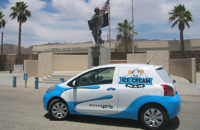 Bessita,
One Cool Toyota Yaris
Suprisingly, she can hold over 500 ice creams
In 2006 Starr and Val drove two Toyota Yaris Liftbacks around the country for the Yaris Works Project. One of the tours focussed on the West Coast and the other the East and Midwest. While on their six-week journeys, they gave away over 10,000 free ice creams from custom coolers built into the back of each vehicle.



(S)he's equipped with two freezers that together can hold over 2500 ice creams. Also, a full sound system including outside speakers to really bump that ice cream music. -Decommissioned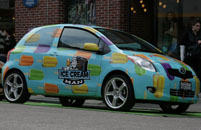 Bessita II,
The Second Coming
A new Toyota Yaris for a new year
Over the course of 2007 the original two Bessitas were retired, their contract having been up for over a year. Soon after, in early 2008, Ice Cream Man was contacted to once again send out a Bessita, this time for the new Free Yr Radio project. Sponsored by Yaris and Urban Outfitters, FYR strives to raise awareness and money for independent radio stations by collaborating with radio stations to have concerts across the country while Bessita traveled to them giving away ice cream. Thus, Bessita was reborn in her new form. -Decommissioned

www.freeyrradio.com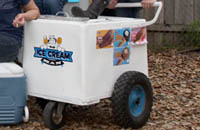 White Push Cart,
Our First Cart
Boldly going where no ice cream truck has gone before
I picked up this push cart through an ad in the Recycler in 2006. I think it was $100, which seemed fair, even though she needed some work. Crew member Mike took up the task of getting her into slinging shape by patching a hole, adding a handle bar, and giving her a fresh coat of paint.

James made several attempts to commandeer the cart in 2007, but was foiled by logistics each and every time. As a result, the cart was rarely used, but really came in handy on those occasions we were able to get it out and about. Hopefully we'll find some more good ways to put her to use in 2008.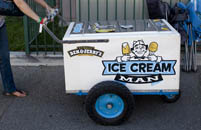 Push Carts,
Customizable and Available
In Long Beach, New York, San Francisco and Austin
Through the years, we've been able to acquire a few push carts and have left them scattered around the country. Currently, we have two in our home town of Long Beach, CA, and one each in San Francisco, New York and Austin. They're available for small events (around 300 pieces) in any of those areas. A small rental fee may apply, inquire with Dave Gooch for pricing and availability

gooch@icecreamman.com